The Art of Gaming
The variety of games we play in life is quite extraordinary. Roles assumed in relationships and diversions like chess, cards, and games of chance involve us intensely. Games have been a favorite subject of artists since antiquity and medieval and renaissance art is rife with paintings of Fortune's Wheel, the Zodiac, and Tarot cards. Games and their seemingly arbitrary rules had a profound effect on the course of modern art through the works of Marcel Duchamp. Game rules dictated the creation of 3 Stoppages Etalon or "The Three Standard Stoppages" which Duchamp realized by dropping three-meter-long lengths of thread on a painted canvas from the height of one meter. Afterwards the threads were permanently affixed to the canvas with drops of varnish. By way of this simple gesture, chance occurances became a new paradigm in art that was extended by the work of John Cage and Fluxus artists. By cross-dressing as Rrose Selavy, his feminine alter ego, Duchamp also began role-playing games that live on in the work of Sophie Calle. Curator Laura Steward Heon explores the theme of gaming in an ambitious exhibition at the Mass MoCA entitled Game Show that will be on view through April 2002.
Fluxus Games
Fluxus artists launched a playful critique of the values of Modernism with its cult of genius and the original art object. They questioned the materialistic values of the gallery system, favoring commonplace materials and large inexpensive editions. George Maciunus invited numerous Fluxus artists to design boxed games with instructions or "scores" which he published and sold at his Fluxshop on Canal Street and Fluxfests. On view is Ben Vautier's A Flux Suicide Kit which consists of a plastic box containing a shard of glass, a razor, a fishing hook, matches, an electrical plug, a pin, and a mysterious ball bearing. The piece includes graphic design by Maciunus in the form of an insert depicting a man's head with explicative arrows marking pressure points like an accupuncturist's chart. A Flux Suicide Kit alludes to the Vincent Van Gogh suicide and romantic angst-ridden artist myth. It subverts our expectation innocuousness and elicits a response that is both troubling and humorous (Vautier's Lilliputian noose would only hang a field mouse).
Yoko Ono's white chess set Play It by Trust is also featured in the exhibition. By eliminating the other in chess, Ms. Ono transcended the competitive nature of this archetypal board game to arrive at a new model. Chess originated in 5th century India as a wargame, conceived to refine the player's sense of strategy on the battlefield. Duchamp was fascinated with the conceptual nature of chess but took its aggressive nature for granted. Yoko Ono reinvented the game by playing white chess with John Lennon in their Imagine video. They created new moves like eating chess pieces or tucking them into a garter.
Christian Jankowski
German artist Christian Jankowski exhibits Telemistica, a work he realized for the 1999 Venice Biennale. Jankowski called several televised fortune tellers in Italy and asked them to prophesy his next work of art. Armed with a deck of Tarot cards, fortune tellers responded to questions like, "Is the idea I've got the right idea?" The response included clichés about artists. Some foresaw success for his new work in general terms and others cautioned him to withhold hopes for financial success in art. Unwittingly the psychics were being recorded on videotape as they answered his questions. Their soothsaying on art became his art work. The commentary is very entertaining as the astrologers for once seem trapped in a game that is not their own.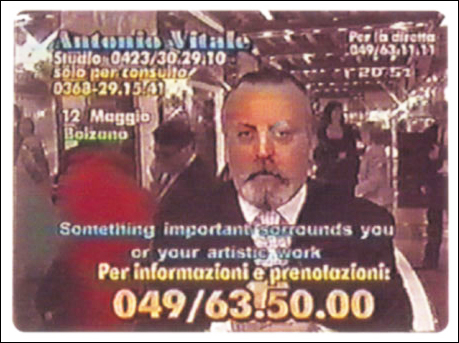 Christoph Draeger
After the World Trade Center attacks, work by Swiss artist Christoph Draeger's has become increasingly provocational. The subject matter of Draeger's work is catastrophes and his TWA 800 #4 consists of an enormous digital print depicting the remains of this plane that crashed into the Atlantic Ocean and was reassembled in a hangar. The print was mounted on heavy cardboard and die cut into thousands of pieces, so that the image on the wall is actually a fully assembled jigsaw puzzle. In making this puzzle, the viewer would sense revulsion at a task made analogous to reconstructing the airplane fuselage. Draeger's Oiltank consists of a plastic model oil tanker floundering in a film of used motor oil in an aquarium. This model ship gone astray reflects lost innocence and even represents a critique of capitalistic game playing with the environment.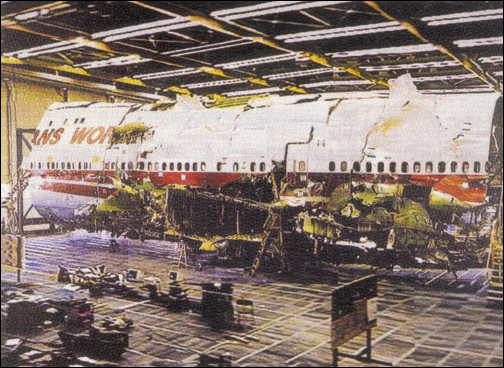 Sophie Calle
One of the most intriguing artists in the exhibition is Sophie Calle, a French artist whose work addresses themes of voyeurism, role-playing, and exhibitionism. Since early childhood Ms. Calle has devised personal games with rules that govern her behavior. These games often but not always involve a public not privy to the rules of the game which is somehow drawn into it. In 2000, novelist Paul Auster suggested that she cultivate a place in New York and Calle selected a Soho telephone booth which she furnished with cigarettes, breath mints, and other items. Gotham Notebook, the resultant piece, documents her interactions with New Yorkers who happened upon the booth. Ms. Calle would smile at each one and document the number of people who smiled back. She would also offer items to passers-by and document their response with text and photographs. For Sophie Calle this urban sociological field game led to a heightened understanding of the neighborhood and the bystanders were forced to examine themselves and their reactions. All of this was achieved by simply changing the rules and subverting expectations.
Game Show, curated by Laura Steward Heon, will be on view at Mass MoCA through Spring 2002. Mass MoCA is located at 1040 Mass MoCA Way, North Adams, MA 01247, telephone (413) 664-4481.
© Daniel Rothbart, 2001.