Joel Shapiro in Rome
Joel Shapiro: Roma from March 12 through May 30, 1999 @ The American Academy in Rome, Via Masina, 5, Tel. 065846425 (as well as Piazza Barberini, Piazza Sant'Ignazio, Piazza San Lorenzo in Lucina, Piazzale di Villa Borghese)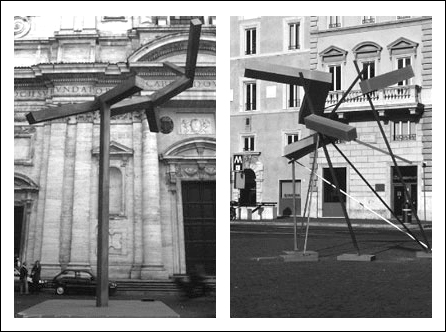 Joel Shapiro exhibits five recent sculpture in historical sites of Rome while his work of the last ten years is the subject of an exhibition at the gallery of the American Academy. Pieces installed in the city interact with the flowing organic contours of baroque architecture or, in the case of his project in Piazza Barberini, with work by Gian Lorenzo Bernini. Shapiro conceived one piece specifically for Piazza Barberini, where it establishes a dialogue with Bernini's Triton Fountain. The Shapiro sculpture consists of linear props that uphold broader, rectalinear elements which in the context of his oeuvre might be considered a fragmented figure. In a discussion with the author, Shapiro described the Triton Fountain as "stacked" due to the weighty basin that supports a kneeling triton. Shapiro's airy work is closer to a constructivist sensibility, influenced by Tatlin, and Shapiro declared, "the supports are as interesting as the forms they are holding." The basin of the Triton Fountain emits jets of water that, like Shapiro's props, elevate the locus of attention.
Mr. Shapiro first visited Rome in 1978, and he was impressed by the Museum of the Villa Borghese. Its collection prominently features work by Gian Lorenzo Bernini and both artists share an interest in the expressive possibilities of the figure in space and issues of balance. In a conversation with the author, Shapiro described baroque art as, "violating gravity and disrupting conventional issues of flatness." An affinity with the Baroque is manifest in the handsome gamut of work in Shapiro's exhibition at the American Academy curated by Peter Boswell.
There is a forthcoming catalogue of the Rome project with essays by Peter Boswell, Klaus Kertess, and an interview with Joel Shapiro by Ester Coen to be published in an English/ Italian edition by Electa. The outdoor work will travel to the Yorkshire Sculpture Park in West Yorkshire, England where it will be on view from July 7 through March 2000.
© Daniel Rothbart, 2000.