Impressions of Israel, Israelis and Israeli Art
In January of this year I had the opportunity to visit Israel for the first time. Like many newspaper-reading, television-watching Americans I left with some trepidation – expecting to find myself immersed in the conflict between Israelis and Palestinian militants. I expected to see civilians armed with guns and ubiquitous soldiers. El Al security in New York and frontier police in Tel Aviv certainly questioned my wife and I. But throughout our visit, which consisted of two weeks travelling between Tel Aviv, Umm El-Fahem, Jerusalem, and Eilat, we saw nary a soldier. Neither does Israeli society seem outwardly militaristic.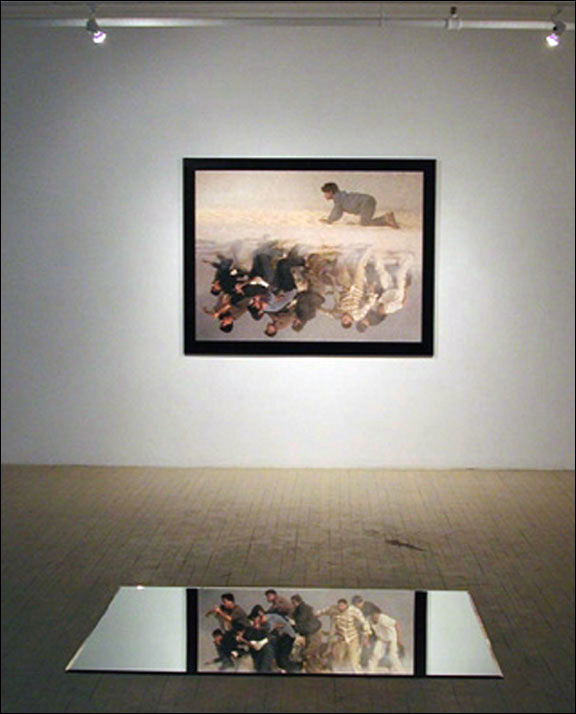 My wife Francine and I were guests of the Herzliya Artist's Residence in a seaside town between Tel Aviv and Haifa. The environment was Mediterranean but more so, something like southern Italy with the addition of date palms, exotic flora, and all manner of exquisitely plumed birds. Nearly all of the Israelis who we encountered spoke good English, and the people working in museums, galleries, restaurants, and elsewhere were largely warm, friendly, helpful, honest, and well-mannered. The following are notes from this Israeli visit.
The Herzliya Artist's Residence
Varda Genossar, the Founding Director of the Herzliya Artist's Residence is herself an accomplished poet. She envisioned a forum in Herzliya for Jewish and Arab encounters and the exploration of Jewish issues that would take the form of a colony / residence with accomodations for artists of different disciplines. Her desire became a reality in 1995, when the city dedicated a former art school to that purpose. Her residence includes two large furnished apartments for both Israeli and foreign guest artists, composers, and writers. On the ground floor of the residence is a one thousand square foot gallery that hosts month-long exhibitions. Three additional studio spaces are made available to Israeli artists for a two-year period.
The Herzliya Museum of Contemporary Art
The Herzliya Museum of Contemporary Art, which had come highly recommended to us, proved to be a ten-minute cab ride from the residence. It is a fine contemporary edifice designed by architect Amnon Rechter, which is, by way of its elegant clerestory lighting, and spacious galleries, ideally suited to exhibiting contemporary art. During our visit, an exhibition contemporary Israeli video was under way. Many of the works on view were of an experimental nature which testifies to the fresh, curatorial vision of Director Dalia Levin. Particularly noteworthy was an installation by Oded Yeda'ya which juxtaposes footage of disparate environments with a Hebrew text.
The Umm El-Fahem Gallery
On Saturday (the Israeli day off work), Varda Genossar drove us to visit the Umm El-Fahem Gallery; the only gallery of contemporary art in Israel that is owned and managed by Arabs. Umm El-Fahem (literally "Mother of the Charcoal" due to its importance as a center of charcoal production) is an Arab city within Israel that is situated on the border with the West Bank. We were met in the gallery by Said Abu Shakra, a sanguine former policeman and co-founder of the gallery. Together we toured the spaces which featured contemporary works by Jewish and Arab Israeli artists. In 1999, the space rose to national prominence by co-hosting an exhibition of work by YOKO ONO together with the Israel Museum in Jerusalem. The gallery is currently in the process of moving to larger quarters, and Abu Shakra drove us to the new construction where Umm El-Fahem will occupy three ten thousand square foot floors. The new space will include living quarters for artist residencies, exhibition spaces, video projection rooms, a library, and a café. From a balcony of this building we heard the Muslim call to prayer, amplified from numerous minarets of the city in such a way that the sound seemed to float disembodied over the casbah. After a delectable meal of shredded chicken and local tapas, we returned home to Herzliya.
Overcraft Curated by Tami Katz-Freiman
In her Overcraft exhibition, curator Tami Katz-Freiman has revisited the theme of patterning and ornamentation as a theme in contemporary art by women. She has done so, however, in an unnerving way which can be characterized by the use of sweet colorful elements to depict violent subjects. Michal Shamir, in an untitled work in progress of 2003, has created an ox carcass, hanging from a hook, entirely made from jelly candies. Worms, jelly beans, and candied eggs, form a macabre Arcimboldian fetish object. Artist Alice Klingman, in a panel from the series "Four Mothers (Matriarch)" heats plastic dolls to just the temperature at which they begin to melt into one another. Outwardly they are colorful and shiny toys, but their deformation alludes to painful memories of the holocaust and, more recently, to Palestinian suicide bombings.
Studio Magazine
Studio is a monthly magazine of contemporary art that was founded in 1987 and rose to prominence under the ten-year editorship of Sarah Breitberg-Semel, a former curator at the Tel Aviv Museum of Art. The magazine covers international exhibitions and foreign artists while remaining focused on the Israeli contemporary art scene. Under Breitberg-Semel, such luminaries as Jean Francois Lyotard and Thomas Hirschorn contributed writing to Studio. Breitberg-Semel retired from the magazine this year to pursue a writing career, and Yael Bergstein, the incoming Editor-in-Chief, intends to publish artist's projects by young Israeli and international artists as well as writing by art theorists and curators. She also wishes to address artistic production in outlying areas, such as Arab Israeli cities, which she considers to be, "a potentially driving force in the Israeli cultural scene."
Performance Work by Beni Corri and Bernardo Scolnik
During my time at the Herzliya Artist's Residence, I had the opportunity to view performance work by two exceptionally gifted artists: Beni Corri and Bernardo Scolnik. Corri's recent performance began as the artist produced an identification card, notes, a prayer, a photograph of his wife and son, money, a credit card, and his wallet. He would hold each object in his hand and then lay it on the floor, exclaiming, "My I.D., My notes," etc. He then pressed the "record" button of a tape recorder and beat an exciting Middle Eastern rhythm on a metallic vessel. After playing this improvised drum for several minutes he stopped, rewound the tape, and pressed "play." Suddenly he pulled up his jacket and shirt to expose his midriff and performed a spirited Levantine dance. He then picked up each item that had been placed on the floor and declared, "Our prayer," "Our son," and so on.
Bernardo Scolnik created an environment illuminated by blue light. He lay motionless beneath a white shroud from which he emerged to the accompaniment of a woman's voice singing Eastern music. Scolnik then covered his body with luminous dry pigments. In so doing, his body assumed a prism-like quality, defying our conventional expectations and perceptions of the human body. The music died away and a new sound emerged, like traditional Judaic cantillations, sung by a man, to a contemporary beat. Scolnik lighted incense and a group of metal vessels (which had been filled with kerosene) to create flaming torches. He then arranged the vessels in a straight line and passed small candles to members of the public. Ultimately, Skolnic held his candle together with that of Varda Genossar, who was seated in the audience, to create a single flame. He then blew his own candle out as the cantillations faded away and the woman's voice was heard once more. Scolnik once again swathed himself in a diaphonous white shroud, and lay motionless as the lights faded to darkness.

Three Galleries – Boulevard Rothschild
Tel Aviv has a lively gallery scene that, due to time constraints, I could only explore in a limited way. For architectural rather than artistic reasons, I chose to visit galleries in the neighborhood of Boulevard Rothschild. Tel Aviv is the only city in the world built primarily in the Bauhaus style and it boasts the largest collection of International Style buildings anywhere. Seventeen former Bauhaus students worked locally as architects in the 1930s, during one of the Tel Aviv's greatest periods of expansion.
The Rothschild neighborhood has a particularly high density of such buildings, including number 64, the edifice of Sommer Contemporary Art. I walk down a flight of outdoor stairs to the gallery of Irit Mayer-Sommer, which flanks a little garden (many Bauhaus practitioners in Israel included such garden spaces to reflect the Zionist value of returning to the soil). After exchanging salutations with Mayer-Sommer, I proceed to her gallery space which hosts an exhibition of work by Michal Helfman, an artist who by way of lights, paintings, and performance work, examines and critiques social customs. I was particularly drawn to documentation of her performance work with balloons.
After checking my clock, I realized that I must be on my way if I desired to see other spaces that afternoon. I returned to Rothschild, eventually locating the Tal Esther Gallery off a side street. The gallerist was a very young woman, seemingly in her twenties with a generously helpful assistant. Her exhibition consisted of abstract paintings that weren't to my taste, but Esther showed me documentation books of other artists with whom she works, including the work of Guy Bar Amotz. Bar Amotz produces fanciful sound systems that people can wear on their back or which can occupy (and dominate) other spaces. I say goodbye to the gallerists and proceed to my last destination – the Noga Gallery of Contemporary Art.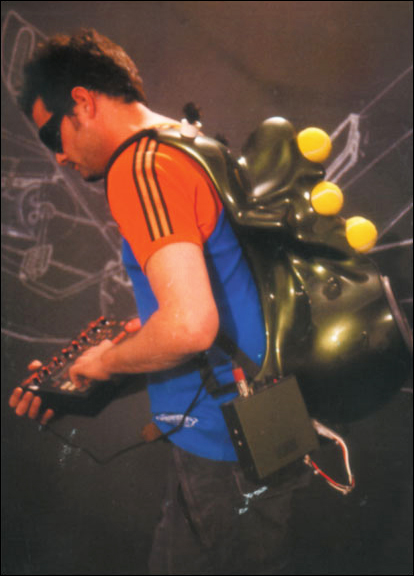 On view at Noga was "Liberty (leading the people)," an installation by Israeli born artist Dorit Cypis. The first thing that one encounters on entering the space is a small fun-house mirror affixed to a column, which turns you upside down. As you proceed into the space you stand before a large photocomposition of Palestinians being tear gassed and a video projection of the open window of a Tel Aviv hotel, its gossamer curtain blowing gently in the wind. Covering a gallery window is a crimson curtain that casts blood-red light onto the floor. Undoubtedly one of more powerful exhibitions that I had seen recently, I introduced myself to the gallerist Nechama Gottlib, a highly intelligent and serious minded woman, who offers consistently exceptional programming to the Tel Aviv public. The New York analogy of Apex Art came to mind. With a touch of remorse and frustration at the brevity of my visits, I proceed home to the Artist's Residence in Herzliyah, promising myself to return one day.
© 2004 Daniel Rothbart. All rights reserved.