Enrico Pedrini: The Caffeine of Europe
by Daniel Rothbart
We were driving in Enrico's car through the countryside of Lombardy, past Arborio rice fields. After a day in Milan visiting venues of contemporary art, we were making our way back to Pavia, near Montesano di Filighera, the city where Enrico Pedrini was born, January 15, 1940. The fog was dense, atmospheric at first in the crepuscular light, but later settling into a heavy veil through which we could hardly see. I was worried but Enrico was unfazed, as he smoked cigarette after cigarette while reflecting on the creative development and career of Bernar Venet, a major French artist whose work he had begun to collect early on. Enrico seemed to drive blind, as if by instinct, when all of a sudden we struck the car in front of us. It was a gentle collision, quite common in this misty countryside, and, after exchanging formalities with the other driver, we dined on local risotto and retired to Enrico's palazzo in Pavia for the night. Obstacles on the road were nothing new for Enrico and he was used to quickly circumventing or overcoming them.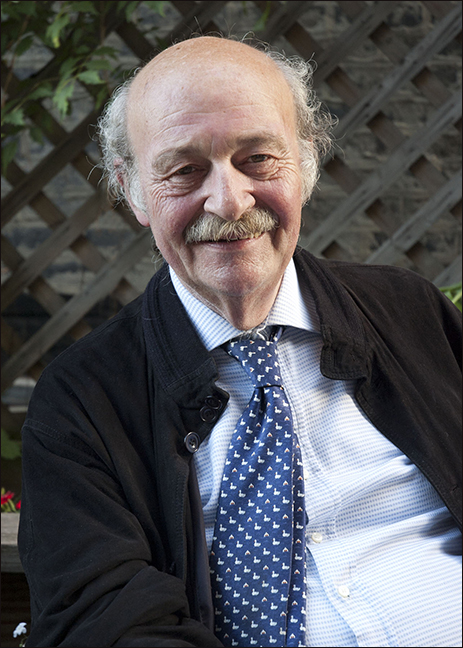 Nemo propheta in patria sua goes the saying, and this was the case. Enrico had studied pharmacology at the University of Pavia, and upon graduation ran a successful pharmacy in the center of Florence. Which is to say that that although he had not studied art or art theory, it would later become his all-consuming passion – bringing to mind Jean Cocteau's observation to never be a professional but rather an amateur in the sense of one who loves. Enrico's unorthodox background became a source of criticism in his native Italy, where professional jealousies regarding his work often came to the fore. His response was to get into his car and drive – to France, Spain, Switzerland or Germany – or to fly across the Atlantic to New York City, where his ideas fell on more receptive ears.
Once Enrico had found his calling, he followed it with unrivaled intensity. His background and interest in science influenced his approach to and appreciation of art, favoring conceptual work by seminal pioneers like Marcel Duchamp and Man Ray and leading him also to study and collect later practitioners of the ideas they espoused, like Donald Judd, Carl André, Dan Graham, Joseph Beuys, Max Neuhaus, Bernar Venet, Victor Burgin, Art & Language and Joseph Kosuth. Pedrini also considered Fluxus (particularly Giuseppe Chiari, Ben Vautier and Geoffrey Hendricks) and Arte Povera (Pier Paolo Calzolari and Michelangelo Pistoletto) to be conceptual movements and was fascinated with Graffiti Art, particularly the work of Keith Haring, Crash and Daze.
It was in the Florence of the 1970s that Enrico met Giuseppe Chiari, a soulful and intelligent Fluxus artist who worked with sound and performance. This was the beginning of a lifelong friendship and dialogue between the two men. And he began to collect Chiari's work in an unorthodox way. He would put the amount of money he could afford into a sealed envelope for Chiari each month, and Chiari, in return, would give him the artworks he wanted Enrico to have. This relationship, characterized by mutual esteem and trust, was typical of Enrico's dealings with artists. In 1972 at an opening at Daniel Templon Gallery in Paris, Enrico made the acquaintance of French conceptual artist Bernar Venet with whom he also cultivated a long friendship and collaboration. In both Chiari and Venet, Enrico saw the marriage of vision, integrity, and sensibility – human qualities that he valued very much. From the beginning, he had a deep appreciation for artists and enjoyed their company, pursuing his theories in direct dialogue with them.
In 1974, artist Claudio Costa introduced Enrico to the German museum director and curator, Wolfgang Becker, who would also become an important friend and collaborator. Educated in Paris and Bonn, Becker was the Founding Director of the Ludwig Forum for International Art in Aachen. Enrico had begun writing about contemporary art and often used works from his collection as illustrations. Becker recalls that Enrico was always ready to leave his busy pharmacy in the Piazza della Repubblica, in the very center of Florence, to talk about art. He had always been intrigued by Enrico's ideas about art, but when Wolfgang became the German Commissary for the Paris Biennial, he also became impressed by how well known Enrico had become among other Italian curators and artists. The two would later travel to New York City together, when Wolfgang was acquiring works for the Ludwig Forum, and in 1995, in collaboration with Paolo De Grandis, they co-curated the Taiwanese Pavilion at the Venice Biennale.
Neapolitan gallerist, Giuseppe Morra, once described Enrico as a person who lived for contemporary art twenty-four hours a day. That description rings true. But I prefer to the think of him in the same way a journalist once described the Futurist poet Filippo Tommaso Marinetti as "the caffeine of Europe." Enrico was gifted with tremendous creative energy and capable of devoting long hours to writing art theory and traversing great distances to attain his ends. He required little sleep, and after a long evening of conversing on art he would wake up and dress in a dapper collared shirt and tie, ready to view more exhibitions in galleries and museums. Or drive, if need be, to see still more shows! Enrico once remarked that Italy was divided into two curatorial spheres of influence: Achille Bonito Oliva ruled from Rome south like an Oriental potentate, while Germano Celant reigned over principalities north of the Italian capital. But, nonetheless, Enrico always found a way to make space for himself and his projects through ingenuity, substantive art theory, and physical mobility. The Futurists might have described it like this: space + movement = light.
Never one to rest on his laurels, Enrico also followed younger artists whose work interested him. These included Luca Sossella, Sukran Moral, Maurizio Bolognini, Jan van Oost, Frédérique Nalbandian, Zoè Gruni, and myself. I met Enrico in December 1992 at my solo exhibition at the Galleria Pinta in Genoa through the artist and gallerist, Claudio Ruggieri. Enrico became intrigued by my work, and I invited him to attend a lecture I was giving at the US Information Service in Milan on the influence of Jewish thought on post-war American abstraction. Enrico attended, and, ever receptive to alternative readings of art history, he, in turn, invited me to develop the thesis into a book. As a result, Enrico's long-time collaborators and fellow collectors, Pino and Magi Napolitano, published Jewish Metaphysics as Generative Principle in American Art, with an introduction by Enrico Pedrini. Together, we presented the book to a public that included notable scholars and artists such as Arturo Schwarz at Studio Oggetto in Milan and Michelangelo Pistoletto at the Persano Gallery in Turin. The book forged a bond between us that I cannot find words to express here. For the next twenty years, until his death, Enrico and I worked, and, when possible, traveled together.
Enrico made frequent visits to New York City and often stayed with my wife, Francine Hunter McGivern, and me at her Tribeca loft, Jungle Red Studios. During one such visit, he reconnected with American critic and curator, Richard Milazzo, who he had met during Richard's Collins & Milazzo days in Italy during the 1980s. When he visited the States, he and Richard would enjoy lively conversations on contemporary art at Café Dante in Greenwich Village. One of these exchanges culminated in a book project. Richard had co-founded Edgewise in 1995, a small press that published poetry, cultural and philosophical essays, and artists' writings. Among its authors we must count Bruce Benderson, Peter Halley, Jonathan Lasker, Cid Corman, B.H. Friedman, Remo Guideri, Rackstraw Downes, Mary De Rachewiltz, John T. Spike, Vik Muniz, Saint Clair Cemin, Joseph Mascheck, Ross Bleckner, and many others. Richard wanted to publish Enrico's Irreversibility and the Avant-Garde: An Essay on Physics and Modern Culture, which explores how unstable systems often drive progress in avant-garde discourse. The book was first published by the Napolitano's Ulisse e Calipso Press in 1992 and required translation. I volunteered my services, translating Enrico's book and writing a preface for it. Despite the difficult nature of the book, it has been in continuous demand by museum and university bookstores throughout the U.S., including P.S. 1 Contemporary Art Center and the New Museum here in New York City.
In 2002, as a resident at La Napoule Art Foundation outside Cannes, France, I was able to spend a great deal of time with Enrico. Some years before, he had acquired the uppermost apartment of a medieval watchtower in Cagnes sur Mer on the Côte d'Azur. If ever a habitation resembled its owner it was Enrico's tower. It reminded me of the tower in Joyce's Ulysses. After mounting an ancient circular stone staircase within its walls, the visitor emerged into a small apartment perched high above the town and the Mediterranean, with contemporary furniture selected by his wife, Mariella Marcantoni. Enrico believed the tower was suited to a philosopher and he enjoyed taking and serving coffee on its battlements that once safeguarded a populous from pirates. It was during this time I spent with him that Enrico generously introduced me to the gallerist and publisher, Christian Depardieu, with whom I would subsequently collaborate on numerous projects. Enrico believed in creating connections between people, rather than instigating conflicts. He was interested in France and we spent hours discussing the French contemporary art scene, state patronage, La Station (a collective of emerging artists from Nice), and the avant-garde art school, Villa Arson. It was, in fact, in France that I saw Enrico for the last time. This was in 2010. He came to meet me, Francine and the Napolitanos at an exhibition of my work at the Galerie Depardieu. A back surgery gone awry the year before had required convalescence – a state of rest that was an anathema to Enrico – and his son Gianmaria had driven him to France. He walked with a cane and was visibly more frail than I had ever seen him before, but he was still spirited and focused on recovery. Ultimately, on April 19, 2012, after a brief illness, Enrico passed away, in Genoa.
I'll never forget one particular memorable afternoon I spent with Enrico in Florence four years earlier when I was exhibiting at Andrea Alibrandi's Galleria Il Ponte. We visited his old pharmacy that he had abandoned in order to pursue contemporary art and took coffee together at the famous literary café, Giubbe Rosse, where the other caffeine of Europe, Filippo Tommaso Marinetti, had met with his compatriot Futurists nearly a century before. Then we strolled in the gardens where Lorenzo De' Medici, Renaissance patron of the arts, once enjoyed walks with his artists. Ultimately, we did something that was unusual for Enrico, namely seeking out art of the past. Making our way to the Tomb of Giuliano de' Medici, we viewed Michelangelo Buonarotti's allegorical sculptures of Night and Day. To the right reclined a male nude, powerful like the sun, his face hewn roughly in the manner of Buonarotti's slaves. To the left was a muscular recumbent female form, melancholic, and sheltering an owl beneath her leg and gracefully poised over an eyeless mask from antiquity. The distance between these figures is defined by their shadows, which partly cover one another. In my mind, such is the distance between Enrico today and the many lives he touched and nurtured. I will never be able to adequately express my gratitude for our time together and the precious dialogues we shared. I can only hope that the spirit of Enrico Pedrini will stay with his fellow travelers in art, continuing to light their way, and mine, with his beautiful mind and heart.