Glimpses of Milan and Naples
Milan was eerily vacant when I arrived this summer. Many of its citizens had embarked on their annual migration to beaches of Italy and beyond, leaving behind punctilious tramways, fashion houses and tourists who congregate around the Gallery and Duomo. Unlike many Italian cities, Milan is highly efficient and orderly, with broad avenues and a functioning subway. Once part of the Austro-Hungarian Empire, Milan is a stone's throw from Switzerland, and shares a seriousness of purpose (save in August) with her northern neighbor.
Milan: Günther Forg at Salvatore + Caroline Ala
One summertime holdout was Salvatore Ala, the renowned gallerist whose exhibition space at Prince and Broadway in New York once heralded the work of Jean Michel Basquiat and Keith Haring among many others. Ala's two galleries were like frigates of contemporary culture sailing across the Atlantic between new and old worlds. Ala ultimately closed the New York space retaining the gallery in Milan.
His current offering is a personal exhibition of artist Günther Förg, which consists of abstract paintings inspired by architectural spaces and photography. The rational order of orthogonal lines and grids is set in counterpoint to bold colors which "push and pull" elements from their geometry. Other color fields are softly striated, alluding to the spaces of nature.
Milan: Art Religion Politics at the Padiglione d'Arte Contemporanea PAC
Jean-Hubert Martin has curated an exhibition of work by the most disparate artists and cultures around a theme too broad to be meaningful. Despite this shortcoming, independent works stand out, warranting a visit to the PAC. I found the installations by Cuban artist José Bedia particularly intriguing in their coalescence of personal and sacred spaces by way of wall drawings which project into the architecture of the gallery.
Milan: Concorso di Arte Contemporanea Artisti in Villa
This exhibition consists of work by young Italian artists, many of whom are students at the prestigious Accademia di Brera. As is common with art schools, much of the work is derivative, but influences are decidedly European. An ambitious work consists of an enormous snowflake under whose weight a park bench has splintered and collapsed. One is struck by the artist's deference to Maurizio Cattelan's humor and indifference to his political edge.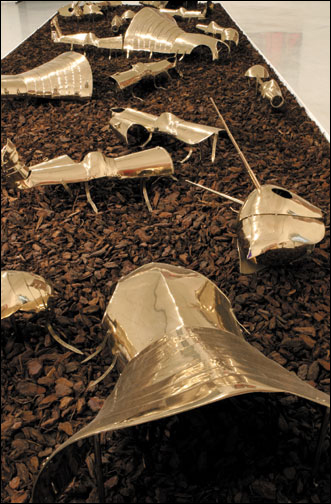 When my train pulled into the central station of Naples I was delighted to find the city has maintained its wild, Dionysian spirit despite attempts to gentrify its downtown. Motor scooters occupied by two and sometimes three passengers weave their way at high speeds through traffic. A steady torrent of cars flows past the station, depositing travelers and picking up new arrivals while pedestrians test their nerves trying to cross the street. Sadly, a McDonalds has replaced one of the myriad espresso bars in which Neapolitans bide their time at the station.
Naples: Palazzo delle Arti PAN
Naples has more good news, having opened a museum of contemporary art, the Palazzo delle Arti (PAN), just months prior to my arrival. A handsome edifice off the Via dei Mille houses the collection in a newly renovated, whitewashed gallery space. Highlights of the collection include a triptich by Yugoslavian artist Sejla Kameric which depicts a woman with her head to a bare light bulb, holding a circular loaf of bread to her belly and carrying milk in what seem to be containers for gasoline. The work conveys a sense of material and spiritual renewal through montage which transcends the recent Balkan conflict. Israeli artist Motti Mizrachi exhibits King or Fool on the Hill, a silverprint which frames a patriarch from behind, wearing a tall conical hat, surveying the city of Jerusalem below. With wit and humor, Motti suggests the complex dilemma of governing this troubled city. An unusual work by Jan Fabre entitled Sanguis/Mantis Landscape (Battlefield) consists of polished bronze armor, spread piecemeal over mulch, alluding to dismembered bodies. The elements suggest exoskeletons of insects as much as European armor. This metaphor is an apt one, revealing the baseness of our violent urges and foreshadowing our likely successors on this planet should we succumb to them. As always, Naples surprises with a world-class museum that even welcomes visitors in the quiet month of August.
© 2005 Daniel Rothbart. All rights reserved.